From line to plate…
We are proud to have permission from DEFRA to have freshly caught fish delivered to the restaurant from local fishermen, this ensures our customers enjoy the freshest local catch daily with a low environmental footprint.
Dishing up something delicious every day
We pride ourselves as Devon's only floating "gastro shed" and work hard to create the best dining experience from carefully chosen ingredients.
We like to serve the freshest local food, wherever possible, maximising the use of some of the finest food & drink producers in Devon
Allergen information
We ask our guests to let us know if they have any food allergies or dietary requirements at the point of ordering. You can also let us know this information at the point of booking. The team will happily assist you in choosing an appropriate dish based on your requirements. Please be aware that our kitchens handle a range of allergens & therefore there is a risk of airborne contamination and cross contamination. Guests with severe allergies are advised to assess their own level of risk and consume dishes at their own risk
Our Suppliers
Fresh Fish & Seafood
S&J Fisheries, Ivybridge, Devon
S&J are a family owned business that have been supplying the South West region with quality fish since 1985. Food provenance is as important to them as it is to us, with all catch sourced in a traceable and responsible manner.  S&J supplier vessels are part of The Responsible Fishing Scheme, which was created to help the seafood supply chain demonstrate their commitment to the responsible sourcing of seafood. S&J also supports The National Lobster Hatchery, donating 50p per purchase. The charitable organisation, launched in 2000, is located on the South Quay in Padstow, Cornwall. The charity focuses on European Lobster through marine Conservation, research and education.
Mussels: Teignmouth, Devon
Teignmouth Mussels are cultivated and sustainably harvested by hand in inter-tidal waters at the River Teign Estuary, near the seaside town of Teignmouth that's just 6 miles from the restaurant as the crow flies, or should we say, as the fish swims.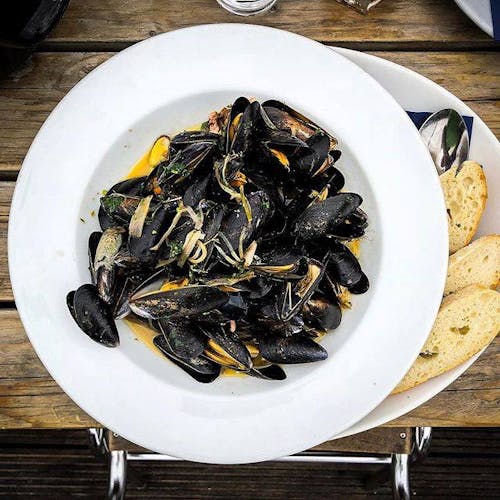 Steaks, Burgers & Wine
Darts Farm: Clyst St George, Devon
Founded in 1971 as one of the country's first 'pick your own' sites down the road in Topsham, the family owned business has gone from strength to strength and is still a working farm, an award winning farm shop, restaurant, vineyard and much more, if you haven't already been it's well worth a visit!
Darts champion sustainable farming techniques, Ruby Red Cattle are rare and native to Devon, their herd graze the banks of the River Clyst. In the summer months they keep the soil fertile with their dung and encourage a new growth of grass which helps to lock and reduce carbon. During the winter months, this land is flooded which helps to encourage biodiversity and increase wildlife presence. The ruby reds are grown to a natural maturity, which is at a much slower pace than industrial breeds, this results in a deep intramuscular fat, incredible marbling and an amazing taste. The beef is hung in whole carcass form, dry aged in the traditional way and butched onsite with great skill and care. All this results in the best taste and texture whilst using every part of the carcass, producing zero waste.
Pebblebed sparkling is crafted using the traditional Champagne method, with a minimum of two years on lees (fermenting) in the Pebblebed cellars, before the sediment is removed in the winery. The blend of Seyval Blanc and Rondo grapes make for delicate red berry and rose petal flavours, balanced with a fresh acidity.
Mushrooms
Forest Fungi, Dawlish, Devon
A skimmed stone throw away on the river is Forest Fungi which provides us with amazing organic, specialist award winning mushrooms. If you are in the area it's well worth booking a tour to see how they cultivate the crop in the 'shroom rooms'. The great cafe and Farm Shop are also worth a visit.
Icecream
Baboo Gelato, Bridport, Somerset
Baboo Gelato was set up in 2015 by Annie Hanbury, a trained gelatiere, who wanted to combine her passion for making seriously good ice cream with the glut of fabulous ripe fruit on her doorstep. The company has gone from strength to strength and bagged almost as many awards as the bags of flavour in the range. On a nice sunny day at the cafe there is nothing better!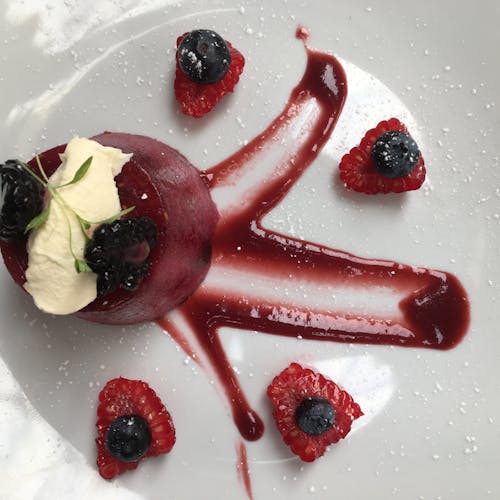 Dairy, Fruit & Vegetables
Westcountry, Newton Abbot, Devon 
We are proud to work with Westcountry; A passion for food family run business who have been trading in the Southwest since 1856. Their range connects us with over 40 independent farms in both Devon and Cornwall to ensure we have the best the season and region can offer.
Forest Produce, Exeter, Devon
Known as the chef's choice for local supplies, our kitchen team would agree. The team at forest are what set them apart. Reliable and always the best quality ingredients await the team each morning. 
Pantry & Frozen
MJ Baker, Newton Abbot, Devon
We also work with M J Baker, a family run independent business based in the West Country, which over their 20 year history have built a great reputation.
Coffee
The Fresh Coffee Company, Exeter, Devon
Murray and his team at The Fresh Coffee Company supplies us with SUNDAY coffee, a "high quality coffee with a story to tell!" After your meal or a long day enjoying the water you can enjoy our 'Green Room Blend'. Aligned with " Rainforest Alliance", SUNDAY offers a blend grown on Rainforest Alliance certified farms. The seal means that the certified product or ingredients are produced using methods that support the three pillars of sustainability: social, economic, and environmental. 1% of all Green Room Blend sales are donated to Surfrider Europe which aid in the protection of our oceans and beaches. SUNDAY also has Membership with Surfers Against Sewage 250 Club. SAS national marine conservation and campaigning charity that inspires, unites and empowers communities to take action to protect oceans, beaches, waves and wildlife. Good coffee, doing good with every sip…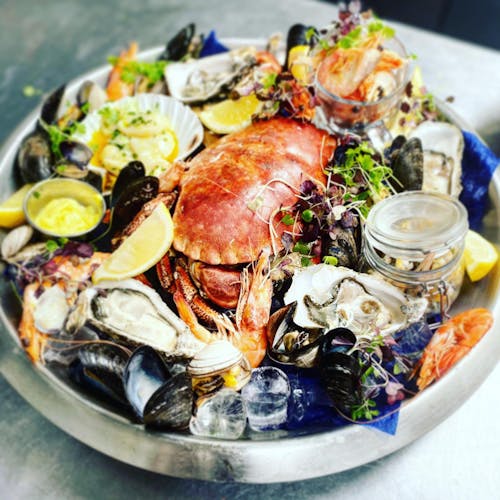 Visit the Shop
Did you know the restaurant has a booking office and shop in Exmouth Marina? 
We stock a wide range of local spirits that feature on the menu including our own River Exe Cafe Gin, so you can stop by before or after your trip to stock up on your favourites!